Ormond Beach FL Condo Rentals and Vacation Rentals near Daytona Beach, Florida
Welcome to
My Friend's Condo
Vacation Condo Rentals
by Home Owners

Ormond Beach and Daytona Beach, Florida


My Friends Condo is a group of friends and fellow Ormond Beach FL vacation condo rental owners located north of Daytona Beach, Florida on the Atlantic Ocean. Our condo owners rent out their fully furnished oceanfront and ocean view homes in Ormond Beach and Daytona Beach Florida. These condos are on a lovely, sandy, no drive beach and are the perfect place to stay for your family's vacation or holiday. For great oceanfront condo rentals, come to Ormond Beach.
Why Vacation Rentals by Owner?


Ormond Beach Condo rentals and vacation home rentals are offered at very reasonable and affordable rates with NO SERVICE FEES except if using credit/debit cards such as PayPal.
These vacation condo unit rentals have oceanfront swimming pool and
high speed Internet

WiFi. Located in Ormond Beach, Florida, in east central Florida just north of Daytona Beach.
It is a short drive to Orlando, Florida attractions, Disney World, Cape Canaveral, the Space Center, St. Augustine and of course Daytona Beach and the world famous Daytona 500 Speedway, Speed Weeks Bike Week and Biketoberfest.
Check back often for current and future deals at the beach.
Relaxing and Comfortable
No need to spend your vacation in an impersonal hotel room. These tasteful, fully furnished Ormond Beach oceanfront and ocean view condos, cottages and beach side homes are available for weekly, monthly or even long weekend vacation rentals. Just go into the kitchen and grab your favorite ice cold beverage or a snack from the fridge. No need to order expensive hotel room service or fill an ice bucket.
Enjoy your own morning coffee and cereal on the balcony overlooking the blue Atlantic ocean and watch dolphins and whales glide by. Shorebirds and pelicans flying overhead complete the picture of carefree daily life on the beautiful no drive beaches.
The beaches in Ormond Beach and Ormond by the Sea are very special. They are not crowded with high rises or tons of tourists. The beautiful, sandy, no drive beaches here are clean sand stretching for miles in either direction with the beautiful blue ocean in front of you.
Take a walk along the shore and experience the simple joy of sand between your toes and the splash of the waves. Several beach side parks surround this pleasant, low density beach locale.
Go ahead and park your beach chair in the surf; no one will bother you here; the beach is all yours to enjoy.
My Friends Condo
Licensed Florida Seller of Travel Ref. No. ST41903

Note:

Seawinds Condo will be doing proactive outside maintenance work this fall and winter, including resurfacing/recoating and sealing the hallways, balconies and exterior walls. Rentals will continue during this work period and there may be limited inconvenience muliple days, during which different hallways and balconies are directly being worked on. Renewed coating protects against salt air and moisture intrusion into concrete walls and floors. During this work balconies on certain stacks being worked on will be closed for several weeks as re-coating work and necessary concrete repairs are being performed. Beach and pool access will stay open.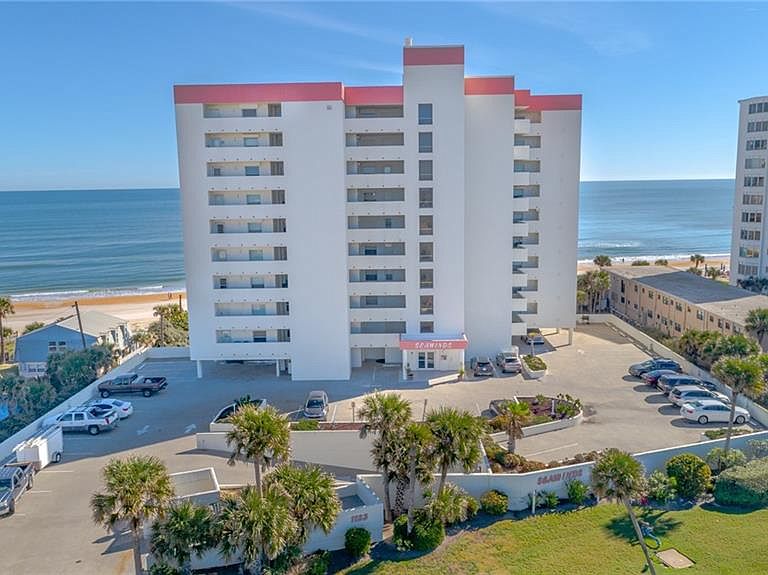 Ormond Beach Vacation
NO SERVICE FEES
when Booking directly with our Owners
Vacation Rentals by owner page for variety of beautiful 2 bedroom, 2 bath Beachside and Oceanfront Condo Rentals
Ormond Beach (Oceanfront)
Ormond by the Sea, Florida
Just north of Daytona Beach, Florida
2022 SPECIALS

Beach Oceanfront Vacation Rentals
March 2023
Sea-Esta Mar 13-Mar 18 $1025
Seawinds 803 Mar 25-Apr 1 $1450
April 2023
Sunrise Apr 1-Apr 8 $1395
Sea Turtle Apr 1-Apr 8 $1395
The Palms Apr 1-Apr 8 $1450
Blue Heron Apr 8-Apr 15 $1395
Sea Esta Apr 8-Apr 15 $1395
Sea Turtle Apr 8-Apr 15 $1395
Sandpiper Apr 8-Apr 15 $1450
Just Beachy Apr 8-Apr 15 $1395
Sunrise Apr 8-Apr 15 $1385
Sea Esta Apr 15-Apr 20 $995
Blue Heron Apr 15-Apr 22 $1375
Sea Turtle Apr 15-Apr 22 $1395
Sunrise Apr 15-Apr 22 $1375
Beachsider Apr 22-Apr 29 $1375
Blue Heron Apr 22-Apr 29 $1375
Sandpiper Apr 22-Apr 29 $1395
Sea Turtle Apr 22-Apr 29 $1395
Sunrise Apr 22-Apr 29 $1375
Just Beachy Apr 23-Apr 29 $1195
Sea Esta Apr 23-Apr 29 $1195
May 2023
Beachsider Apr 29-May 6 $1375
Blue Heron Apr 29-May 6 $1385
Sandpiper Apr 29-May 6 $1395
Sunrise Apr 29-May 6 $1375
Just Beachy Apr 29-May 6 $1385
Sea Esta Apr 29-May 6 $1385
Beachsider May 6-May 13 $1375
Sea Turtle May 6-May 13 $1395
Sea-Esta May 13-May 20 $1395
Sandpiper May 13-May 20 $1395
Bahamian May 20-May 27 $1395
Just Beachy May 20-May 27 $1385
The Palms May 20-May 27 $1395

Book Apr, May, June Now!

2 Bedroom 2 Bath Oceanfront Condo

Condo Units from $1325-$1700/wk
See You at the Beach ...

* Prices are subject to change without notice *
* Rental prices before tax & $125 cleaning *

Ormond Beach Condo Rentals, Vacation Rentals,
Vacation Deals near Daytona Beach
Mention you saw the Ormond Beach Vacation Condo Rental Specials on our Website.
Let us know which dates you are interested in and we'll let you know which condos are open and their rates or just specify the condo.
Why Ormond Beach & Daytona Beach?
Savvy travelers to Florida have found that Daytona Beach, Ormond Beach and Ormond By the Sea have clean, beautiful beaches and far less congestion than other areas of Florida. These beach locales are also one of the best values for your vacation.

You can afford to stay in a direct oceanfront condo rather than a block away in another beach city--for the same price. Ormond Beach, Florida especially is the best of both worlds offering easy access to Daytona Speedway and attractions yet giving you while a picture perfect, laid back beach community.